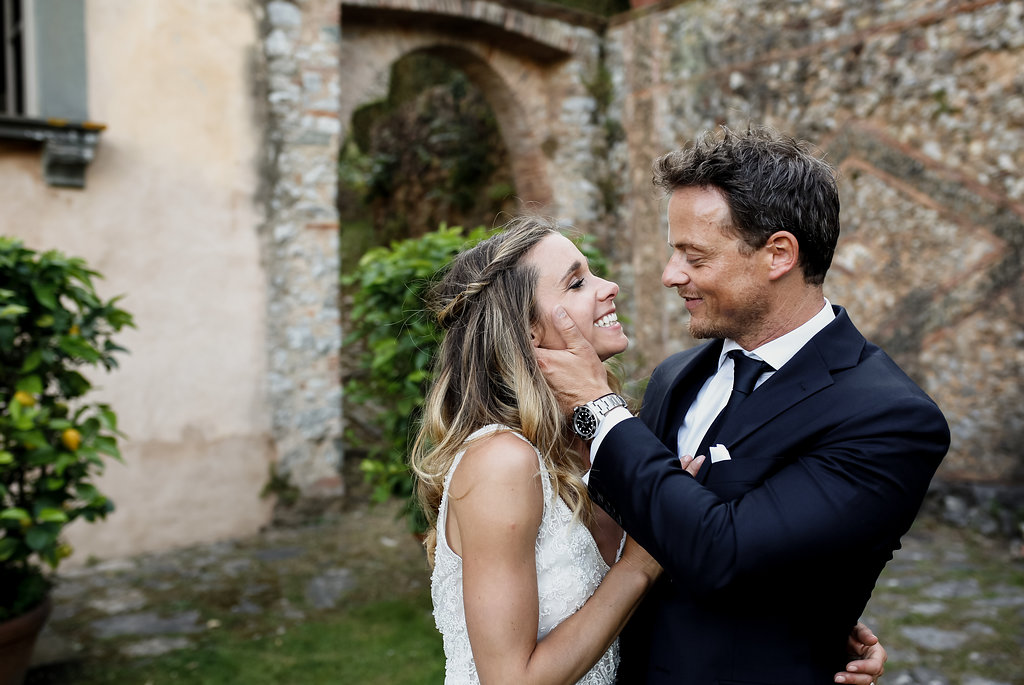 Location & Date | Tuscany, 9-11 June 2017
Guests | 60 people Photographer | Iris Dorine Photography
You, Me, Si!
HOW WE MET
We met through a mutual friend. Years ago we saw each other at a birthday party. At least.. Kelvin saw Ellen mostly. Nothing happened as we were both in a relationship at that time. One year later both relationship were over and Kelvin asked mutual friend Justine to help him to get in touch with Ellen. Justine replied that she would not go on a blind date. Kelvin replied that he just wanted to go on a holiday and nothing more.. Ellen thought that was funny enough to give it a try. After 2 weeks texting and a few nice dates, we went to Barcelona.
"We feel like a team in terms of love, happiness, humor and a lot more."

OUR ENGAGEMENT STORY
We booked a holiday to New York and during that holiday Kelvin kindly asked Ellen to let him surprise her for one day. Just a day on which Ellen wouldn't know where we would go and what we would do. It started early in the morning. Kelvin had to find an excuse to sneak out of the room and buy some roses. He told Ellen that he would go to the ATM to get some cash while Ellen got dressed in the Hotel room. Eventually it took Kelvin 45 minutes to find roses. He gave them to the reception with the request to put them in the room in the afternoon.
First we went for breakfast in a nice French cuisine bar/restaurant and then walked downtown to where all the boat and helicopter tours are. Ellen doesn't like boat tours, so Kelvin made it look like he forgot and booked a boat tour. Eventually we went on a helicopter flight to experience New York from the sky.
After this flight, we took a taxi to Central Park, where we had lunch in the Mandarin Oriental Hotel. It has a great panoramic view over Central Park and Columbus circle.
After this we wanted to go Ice skating in Central park, but it seems we were not the only ones with that plan. The line was way too long, so we decided to go for a cocktail in rooftop bar.
At this time Kelvin was starting to get nervous. The moment that he would propose came closer and closer. We went for a walk and tried to find a taxi. Kelvin secretly asked their friend Bo, who lives in New York, to set up a nice scene at the rooftop terras of the building she was living in. Together with her husband they did a great job and were waiting for us to arrive.
Of course Ellen didn't know anything about all this and took it quite easy, while Kelvin was in a hurry to get to the scene in time. It was around Christmas time, so the streets were very crowded. New York has thousands of taxi's but it seemed that none of them was available. To make it worse, a Christmas light show started in one of the main streets. If you know Ellen, then you know that means trouble! She loves Christmas and it was almost impossible to take her with me. Kel told her people were expecting us.. She wasn't very happy, but it worked. Finally we got a taxi and arrived at Bo's place. The concierge was instructed and helped us to take the lift to the rooftop. Kelvin got quit nervous now and Ellen kinda had the feeling that something was going to happen. We got upstairs, walked towards a door that led us to the rooftop terras and there it was. A very pretty decorated corner with Champagne, candals, balloons and a polaroid camera. We walked towards the scene, enjoyed the panoramic view and then Kelvin went on his knees to propose. Ellen said yes! We drank champagne, went out for dinner and had a great evening. One of the best days of our lives.

MARRIAGE TO US MEANS
We feel like a team in terms of love, happiness, humor and a lot more. We wanted to celebrate that we intend to be that team for the rest of our lives. What's better than celebrating such a beautiful thing with your best friends and family. We felt a great band with them already, but our marriage and celebrations that came with it made this even stronger. A memory for a lifetime.
"Don't worry about the way you look, they will love your dress."
A MEMORABLE MOMENT OF THE DAY
It sounds cliche, but it was a weekend full of unforgettable moments. We think it's fair to say that the first moment we saw each other just before the ceremony was the most memorable moment for both of us.

ONE THING WE WISH WE KNEW BEFORE WE STARTED OUR WEDDING PLANS
That it's good to have your vows ready before the weekend you get married. We both were finishing our vows on our wedding day itself. That's a bit stressful.
"Getting married with the help of LOTTE means that you have the prettiest, sweetest and most competent wedding planner by your side."
IF I COULD GIVE OTHER BRIDES TO BE ONE PIECE OF ADVICE
Don't forget to enjoy the preparations and don't stress too much on your wedding day either. Everybody is there to celebrate love and happiness. Also don't worry about the way you look, they will love your dress.. And, trust on Lotte, she's the best!
GETTING MARRIED WITH THE HELP OF LOTTE MEANS TO US
Getting married with the help of LOTTE means that you have the prettiest, sweetest and most competent wedding planner by your side. LOTTE understood exactly how we wanted our wedding to be and made us feel comfortable from the very first moment we met. She's been of great help with all preparations and was very calm and relaxing during the weekend of our wedding. We love her!